Sorry for the lack of updates, the days preceding Nairobi and the two days afterwards were just busy! The ride out of Nanyuki to Sagana was beautiful - no rain and it was mainly a descent all the way into camp - nice and fast. The campsite (the Mike Savage camp) was very lush, peaceful (save for the persistent lawnmower that we could hear but not see) and to top it off, was a base for white water rafting down the River Tana.

Having never rafted before, and eager to use the full coverage of my travel insurance policy, I signed up (paying possibly slightly too much) for the three hour afternoon trip. I spent about two hours prior to the trip trying and failing to fix a puncture that I managed to get on the way into the camp. At first I was certain the patch was not on properly, took the tube out and repatched it. As I was pumping that up, air appeared to be leaking from the valve. The pump was on the truck and it took several hard trips up the short but steep incline to get to it each time. Finally, Jerry (one of the new British riders) stepped in and we discovered a hole about half a centimetre across. Observing my frustration, Jerry went ahead and put a new rear tube in for me - legend.

The rafting wasn't as death defying as I had hoped, nor as controlled. It seemed like the raft pretty much was constantly spinning and we gave it little direction. Sure there were a few situations where we fell out of the raft and were washed into relatively sharp rocks, but nothing that would have made me fear for my life. There weren't too many rapids either (maybe two or three good sections) so we spent a few times riding the first big rapid. At first I didn't want to fall out but once the raft flipped for the first time and we all flew overboard, it wasn't so bad. There are a few seconds where you're disoriented under the water and are desperately trying to figure out which way is the surface. The buoyancy aid kicks in though and you quickly surface and are dragged out of the way by the fast underwater current. It got a bit cold later in the trip because the sun was on its way West, the only disadvantage of the late afternoon trip. All-in-all it was good fun and I'm just happy my shoulder stayed in.

The next day was complicated, made more complicated by the fact we had missed the rider meeting explaining the extent of the complication. Our trip into Nairobi was to take a partial convoy on the part of the road with the heaviest traffic. To avoid doing a convoy the entire way, the route was extended to take us around the central areas, making the day 137km in total. In addition to the distance, there was also a fair amount of climbing (total ascent was 1550m).

Our route into Nairobi took us down the main highway, passing Thika. 25km into the highway, we stopped for lunch and the convoy began. In order to keep the group moving, we had three smaller convoys - I was lucky to make it into the first convoy. It was mayhem, as expected. Matatus (unofficial public transport in the form of overloaded minibuses) would swerve across our lane, or even try and pull out into the middle of the convoy. Once a 4x4 driver pulled across the front of the convoy and then stopped - his window was open and he received his fair share of verbal abuse from the riders! Soon enough though, we made it into town and down some beautiful roads, one of which contained many embassies. We passed close to my aunt's house and then rode through the city to a suburb called Karen where the campsite was located, reaching just before 2pm.

After my uncle picked me up, we went in search of the much acclaimed proper bike shop. Surprisingly it was a proper bike shop - full of high end bicycle supplies. Their stock wasn't amazing (apparently there had recently been a big event) but I managed to pick up a new (narrower) saddle and a new bottle cage. After this we went to Diamond Plaza where I had intended to get a shave. One thing led to another and I ended up with a haircut, the style of which is known as a 'tucco' - courtesy of my uncle. That evening my uncle, aunt, cousin and I feasted at their home - genuine home cooked Indian food and about 8 scoops of icecream. Beautiful.

The next day I had a massage (wonderful) and sorted out everything - cleaning my tent, bags, clothes, and bike. We went shopping, picked up a bottle of Amarula for safari, and fixed my watch! I also got to open the bag full of spare parts and goodies sent from London with my parents, with the effect that I now have the following:
- 10 Dairy Milk Crunch
- 2 Twix
- 5 Snickers
- 27 Nine Bars
- 17 Protein Bars
- 1 pack of Chocolate Digestives
- TicTacs
- 5lbs of Whey Protein
That afternoon I packed all this away (worrying all the time that it wouldn't fit in my locker - surprisingly it fits very well), met with some friends and feasted again on egg chapatis. Courtesy of my relatives at Mjengo Ltd (Anuj and Raj), we also took delivery of about 6,000 biscuits which were donated to the tour. Feedback so far has been positive - people love the biscuits. The time in Nairobi was too short (or at least too busy). I'll be back in May though!

The next day was a long (157km) day to Namanga, the Kenyan border town with Tanzania. All was going well until sometime after lunch where the newly constructed road we were unofficially using suddenly became wet tar. In retrospect we should have stopped instantly and moved off the road but we kept going. Luckily we didn't fall (as quite a few riders did) but our bikes and limbs quickly became covered in sticky, wet, tar. I could barely hold my handlebars, drink water, or eat an energy bar since my hands were so sticky and it felt unpleasant. Crucially, the brand new drive train I had just installed was now covered in sticky, wet, tar. Mentally it felt like a bit like riding into a wall - having spent the entire day previously cleaning my bike and clothes, only to have that veneer of cleanliness destroyed within half a day.

This slowed me down a lot and I was glad to reach camp. The only way to remove tar from yourself and bike is to use some kind of fuel - there was a jerry can of petrol which people were using to wipe themselves down. Something, either the massive petrol exposure or perhaps the egg chapatis the night before, made me feel quite ill - exhausted, unable to move and nauseous. When dinner rolled round, I wasn't able to eat much at all, and as usually happens on the worst days of the tour, I had dish duty. I managed to clean some of the tar from my bike but they quickly ran out of petrol.

Waking up the next day, compounding the effects of my unpleasant day previous, I had a puncture. Taking the tube out, it had a puncture near the valve - irrepairable. I was the last rider out of camp but managed to catch the group up at the border post to Tanzania. Rolling out of the border post, I forgot to scan my iButton (our timing device) and 2 kilometres later, had to turn around and go back. Great!

The rest of the day was as dreary and I severely lacked speed - either as an effect of not eating enough or because of the layer of tar on my drive train. Reaching Arusha at 3pm was a relief (EFI for another day) requiring five energy bars throughout the day just to sustain me. Arusha is a pretty built up place and Tanzania is much like Kenya. The scenery is beautifully green and we were treated to a great view of Mount Kilomanjaro on the way. Now we stop in Arusha for 3 days before we reach the official half way point of the tour. By my own statistics, we've only covered 45% of the distance (this was, presumably, because of the harder climbing and offroad days in Ethiopia and Kenya) so there is a bit of catching up to do. (Sneak preview: one of the weeks later on is at least 160km *every* day.)
When it rains in Africa, it RAINS. There is no messing about, it'll be heavy but short. Frequent but never prolonged. When we reached Laisamis, the TDA staffer on site mentioned that the dried up river bed looked like a nice place to pitch our tents, soft and dry (it looked like it hadn't rained in a while) so about half the tour set up there.

People started packing up unusually early the next morning. Awakened by the flurry of activity, I was up and in action earlier than normal. Having packed up my tent and carried it to the truck, the heavens broke open. Lightning and thunder which was previously seen and heard respectively far in the distance came closer and closer until it became a murderous symphony directly above our heads.

The rain was already there but at the flick of a supernatural conductor's wrist, it doubled, or even tripled in volume. The drops were fat and heavy, bursting and soaking all in their path.

There was no shelter. It had been a dry and relatively clear evening and the tarps on top of the trucks were not put out. Riders stood with their backs flat against the truck. Those filling their lockers did so slowly in an attempt to avoid the rain. Breakfast was a meagre attempt at catering against adversity - a pot of baked beans slowly became more and more diluted as it filled with rain water. The ground around the truck was littered with the discarded shells of boiled eggs.

The river bed which had housed many tents quickly became a gushing river.

Riding onwards, the rain didn't stop. The sandy, gravelly, corrugated roads had turned into mush. The corrugations were still there but masked under their wet surface. Tyre tracks were several inches deep - there was no good line today. You'd be slightly quicker if you rode down the rocky ruts that had now become fast moving shallow channels for water and really, everything was wet anyway.

The rain died down though, to a pale shadow of its former self. We continued to crank our pedals and about 10 kilometres before lunch the beginnings of a nicer road began. A construction project that is supposed to create a paved road between Isiolo and Marsabit had just about reached that far - beginning by first creating a smooth dirt road and then adding a tar surface. At this point, they had only created the smooth dirt road.

The run off from the storm covered the low sections of the dirt road and created huge puddles. These were great fun to cycle through and luckily there were no unexpected potholes which could necessitate a swim! As my bike travelled through the puddle, every now and then a small green frog would jump across the front wheel.

For a while, this dirt road disappeared. In my state of mild exhaustion, I neglected to observe this road beginning again until just before camp. I kept waiting for the riders who were definitely close behind to overtake but they never did. Arriving at camp, they were all already there - and had apparently cycled past on the smoother road under construction.

As I wheeled my bike into camp, I caught my first offroad puncture of the tour, a thorn about an inch and a half long which required a pair of pliers to remove from my tyre.

The next morning I woke up and as I was about to leave, realised my attempt at patching my tube had failed. Thinking that the pre-glued patch had failed, I stuck another patch on the edge and put the wheel back together. Within a few kilometres, my tyre was down to low pressure again.

Giving up on the pre-glued patches, I elected to use a genuine patch. Unfortunately, my pump was with Jason (I had lent it to him the previous day) - fortunately the sweep rider (and Tour Director) Paul caught up and with an audience of construction workers, I patched the tube and pumped it up with his pump.

Air was still leaking out of the tyre though and I could feel myself getting slower and slower. Paul was riding along at a pretty brisk pace and after a while was a good way in front of me. It took a lot of effort to catch him up (only possible when he slowed to take an energy bar) - it could have been a painful day if my bike had punctured behind the sweep rider, especially without a pump!

The road soon turned to proper tarmac which was a welcome relief. At lunch I caught up with the main pack of the tour, took a brief lunch (just two sandwiches!) and continued on after pumping up my wheel again. I made it to camp but it took an unsurprising amount of effort.

The afternoon was a busy afternoon and I was pretty much busy from when I arrived (about noon) until sometime after dinner. To save on prose, I shall bullet point:
- Showered, nice and warm but tap gave an electric shock when turning water on and off.
- Changed dirt tyres to road tyres.
- Paddy arrived with my new crankset. Chris and I changed over the crankset but the old bottom bracket wouldn't fit the new crankset because of the adaptor that was installed previously. Removing this adaptor caused the bearings to come out of the bottom bracket and we ended up just borrowing a spare Shimano Hollowtech BB from another rider. In addition, replaced the chain and the cassette.
- Changed the seatpost from suspension to rigid. Dropped the nut from the suspension seatpost into the muddy ground and spent 10 minutes trying to find it.
- Drank my first 500ml soft drink (normally they are 300ml).
- Reinstalled my aerobars.
- Found the cause of the slow puncture - the thorn had gone through both sides of the tube and I had only patched one side.
Meanwhile, quite a few other riders drank a lot of alcohol in the dry warmth of the bar. Out under the truckside tarp we were subjected to the heasvy African rain several times each hour and the ground softened to a muddy mess. By the end of the day, all the conmfort food my parents had sent with the spare parts had been consumed.

Today was lovely and short. It started raining just as I woke up and in my fear of the outside, I lay in for about 25 minutes (not a good idea when the morning is so busy as it is). Luckily the rain stopped as we began the day's ride and within an hour it was dry. About twenty minutes in I had to pull over and remove my waterproof jacket because I was overheating.

The first 30 kilometres was a 1,200 metre climb and we had a view of Mount Kenya as we neared lunch. A pleasant tailwind and smooth roads made for easy cycling - although it was still hard on my fatigued legs. The only noticeable difference (apart from massively increased smoothness) of the new drivetrain was that there was no twisting motion as I pedalled which made my right leg ache less.

Lunch today was possibly *the* *best* *lunch* *yet* - French toast, made freshly by the Indaba crew. It was phenomenal and I managed to eat 7 slices of bread (and probably could have eaten more). The afternoon was ridiculously insignificant, and it took less than two hours to reach home for the night, the Sportsman Arms Hotel in Nanyuki.
Originally posted on the
TDA Blog
.
Greetings from your African dirt correspondant, exactly a month on from our first taste of dirt in Sudan. I'm writing from a small settlement called Laisamis, 95 kilometres from a dusty town called Marsabit, en route to Nairobi.
As we left Ethiopia, the heavy rain that had plagued the tour eased up and we were generously treated to several days of dryness. The weather changes quickly though and at 4:30 am on our rest day in Marsabit riders were busily putting their rain flies on their tents. The roads in Marsabit quickly turned to mushy mud and vehicles (including our own bucky, the 'Drama Queen') were getting stuck every few hundred metres. We've not had to ride over any serious mud so far on this tour so this was shaping up to be an interesting riding challenge.
There was no real rain overnight and as the riding week began, we were told of the muddy sections that awaited us on the road. After a pretty serious downhill, I settled down for a morning of gradual descent to lunch. Soon enough the first mud arrived, vehicle tracks were carved half a foot in and any clear cut path soon vanished.
Riding over the mud was slippery and I was very glad of my previously ill-thought out decision to use fairly skinny dirt tyres. The mud attaches to your wheels quickly and within minutes it's rubbing against the inner edges of your frame and fork and collecting on top of your brake callipers, making no sound but slowing you down noticeably.
For one of the early sections, there were a hardened section on the sides of the road which was much quicker to ride along. I was riding along merily at somewhere between 15 and 20 kmph when I caught sight of a local. He shouted and pointed straight across the road to something just metres in front of me. Slamming on my brakes and almost vaulting over my handlebars, the object he was pointing to was immediately apparent - a deep and wide crack in the earth.
Saved from this possible end to my riding day, I continued on to lunch, passing through water logged section after water logged section. The clear rain water turns brown as soon as it touches the soil and the standing water covering the depressed sections of road leaves a layer of fine grit on your skin, clothes and bicycle as you pedal through it. Bicycles were creaking for much of the day as the water washed off lube.
Visible from lunch was another water logged section of road where a truck had got stuck in a seemingly deep pothole. The cab of the truck was arched at 20 degrees to the surface of the water and it seemed that it was submerged about a metre. Normally the puddles aren't that deep, or at the very least, their surface maintains the same consistency as the road immediate before and immediately after it. Another rider Jason was standing on the other side of the puddle scraping his shoes but I took little notice of this. Feeling confident at my ability to ride such puddles, I cycled straight into this puddle, picking a line that followed the ruts on the road leading to it.
The first small puddle was fine but less than two metres into the second puddle I felt my front wheel disappear into some mysterious underwater chasm and I actually went over my handlebars this time. Luckily there was no hard impact, unluckily I was now soaked from neck down. The crew and passengers of the stuck truck broke into laughter and Jason, who hadn't see me cycle in, was shocked to see just my head floating above the water. We stood and watched as three more riders crossed, somehow picking a line where they stayed relatively dry. One of the TDA trucks tried the same and was wedged underwater within seconds.
The afternoon featured the much promised 'extreme corrugation' and arriving to camp was a timely relief. As riders came into camp, it was pleasant to see some of the chronic complainers extoling their enjoyment of the day.
My arms are quite sore. How, you might ask, is that possible on a cycling expedition? Well, our campsite in Marsabit is quite some distance from town and getting lifts is a time-saving necessity since taxis are almost non-existent (and surprisingly expensive). On our way back from dinner, we got a lift from one of the support vehicles for the tour - a huge green 4x4. The only hindrance was the lack of space inside the vehicle (it was filled with food supplies for the upcoming riding week), so Steve, Sam and I were standing on the footplate and holding onto the roof rack. Luckily the trip took less than 15 minutes, else my arms would have given up.

Marsabit is a small, dusty town - the main stop between Moyale and general civilisation (Nairobi, or even Isiolo where the road suddenly becomes paved). It almost reminds me of what an advanced wild west town would have looked like - small general stores and wholesalers down a muddy dirt street, fruit and vegetable shacks line the road and you get the occasional electronics store. There's a baker (it seems Tour D'Afrique has bought them out of fairy cakes, only bread is left - woe is me), a barber (I'm saving my beard for Nairobi) and several internet cafes. There's a couple of restaurants, I've only eaten at one but we've visited three times already. In all my visits, I've consumed approximately six eggs (or exactly six eggs if you want to be pedantic) and eight fairy cakes.

We're also having fun experimenting with the varieties of different carbonated drinks sold in Kenya. In Ethiopia we had only the standard Coke/Pepsi, Sprite/7up, Fanta/Mirinda drinks but here at least there appear to be four different types of Fanta, something akin to ginger ale and another bottle that looks like beer but is another fruit based drink (much to the surprise of those riders who ordered it, expecting a beer).

The campsite is some kind of collection of dormitories and is run by nuns. There's a big statue of the Virgin Mary near the dorms and some kind of chapel too. I've yet to figure out what this place is called but there is some kind of meteorological station nearby and two huge silos (basically warehouses) on an adjacent field. Terrorist scientist nuns? A distinct possibility.

Speaking of the weather, at about 4:30am, I woke up with a wet face. Swearing vociferously, I slid out of my sleeping bag (an easy task because of its pre-existing broken-zip condition) and stumbled out of my tent to put the rain fly on. Just about every other rider was doing the same. It continued to rain well into the morning and when I had gathered the courage to leave my tent at 9am, everything outside was soaked. The roads were an incredible mess of mud and jeeps were getting stuck every few hundred metres. We were unable to find a lift to town this early and walked in the rain, sliding across the inclined path into precarious proximity to the muddy ruts.

Returning to camp by a combination of foot power and a lift on the back of someone's motorcycle, the laundry dilemma resurfaced and I resolved to hope for the sky to clear later in the day. I washed my clothes using rain water that had been collected in a big black tank - it struck me that if this was home, the rain water probably wouldn't have been safe to use! Chris trued my front wheel, with the advice that perhaps I should 'regulate' a bit more, which I took to mean 'ride carefully'.

Since there was no point in washing my bike before another three days of unpaved road, I had the afternoon to myself and with a steady electricity supply, it was now possible to read one of the many ebooks I brought on my laptop. I'm about a sixth of the way through 'Coders at Work', a superb and inspiring collection of interviews with prolific programmers. I've also finished a short story by Cory Doctorow, 'I, Robot'. In an attempt to restart my brain I've also been blitzing through Sudoku puzzles.

If the rain returns tonight, there's a distinct possibility that we'll be stuck in Marsabit for a second rest day since any more mud would make it hard for the trucks to travel. Hopefully this won't happen though and we'll be able to attempt the 600 metre descent that awaits us out of camp.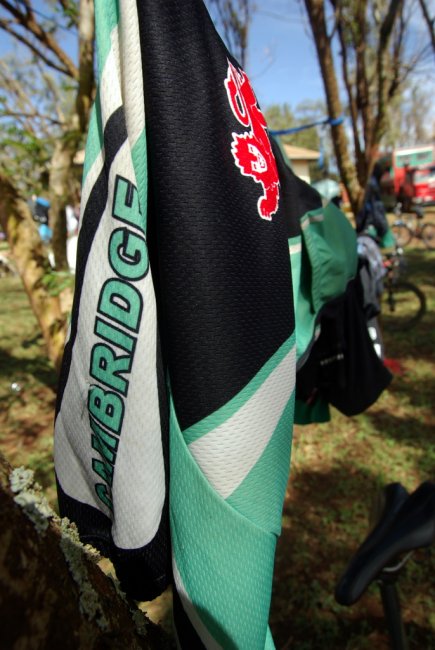 (or This Is Africa)

Today was a long day. Some days are long, purely because of the distance, but today the distance was relatively short (87km). The ground was unusually rough and upwardly inclined. It was the second of the three hardest days of the tour - the first was the Blue Nile Gorge climb and the third will be somewhere further south where we cycle 200km in one day (the longest single stage).

As I may have remarked previously, it is days like this when you wish you had thought about your bike choice better. They throw a lot of advice out to us - about tyres, bringing suspension and all the rest. Somehow, in the bike choosing process, I settled on a cyclocross bike and in the days before today, I began to wonder if I would be able to actually ride the road (based on a photo of the lava rock fields I had seen). Luckily the road is slightly clearer than the fields, there are ruts where vehicles have driven and as such, there is a way forward.

Often these ruts will be gravelly and hence incredibly slippery - if you slow down enough you eventually lose balance. This is fine when you're fresh and full of energy but as they day goes on, it becomes increasingly hard to keep your speed up. Dropping down some gears lets you pedal easier but you tend to slip more as more torque runs through your wheel.

Every now and then you'll notice that the other rut is smoother, or less gravelly or better packed (i.e. flat) and you'll consider switching. Sometimes, it's worth switching - if you don't, you'll lose a silly amount of time. Sometimes, it's not worth switching - since 15 metres down the road it will become just as bad as your side. Sometimes they alternate and you can either switch constantly (again, requiring lots of energy) or just stick it out in your rut.

Switching almost always mandates a high chance of falling. The middle section between the two ruts is thick gravel and usually the ruts are recessed by half a foot or so, with a slight slope on the sides of the middle section. It's possible, if you have enough speed and the right angle, to ride straight up and over the middle. Not enough energy, or just mistiming things and you'll slide straight over - the cause of many riders' grazes and cuts.

I've got a few cuts to the leg, nothing serious. The skin on my index finger where I grip the hoods of my brake levers has worn down since my glove is ripped and I need to put a plaster on it to stop it rubbing down further. It hurts to grip things - I can feel it in my fingers most, presumably from holding onto the handlebars tightly for 6-7 hours. I also have some nice callouses forming on my palms from the repeated small impacts which are passed up through the fork. Saddle sores are back in fashion - presumably for several riders. Hopefully with the upcoming rest day in Nairobi and three rest days in Arusha, they'll go away quickly enough.

Riding aside, the heat in Kenya is stifling and almost as bad as that of the Sudanese desert. Normally we'll arrive to camp as the heat is about to reach its peak, although today took much longer and most of the heat was experienced while out on the bike. The beauty of these roads being so bad is that we are, for vast stretches of time, completely alone. I pulled over several times, took my headphones out and just listened to the wind, the birds and some surprisingly noisy insects. The country is very flat and you can see the bush for miles (or kilometres...) around. This is the Africa I imagined when I signed up.
Supposedly Kenya's in my blood since both my parents are Kenyan. With that disclaimer, I'll state the following: Kenya is awesome! The country is pleasant to travel through and the sky is pretty phenomenal. We've seen lots of camels today, some baboons and the occasional person too. A small bar opposite our campsite serves some superb chapatis (I wasn't aware that these were so common in Kenya).

The riding today was harder on the joints - being corrugated dirt road with a sandy surface. Foolishly, I tried to adjust my brakes myself last night which, given the large, rocky descent straight out of camp, was not a good idea. I took the descent slowly and stopped often to fiddle with my brakes (to no avail). Luckily the rest of the day didn't require as much braking and it was over relatively quickly, I arrived into camp well before noon.

The road tomorrow is similar for the first 60km before we hit the lava rock. I'm quite apprehensive about this surface, it's been hyped up ever since we started thinking about what bike to bring. This is the meanest, hardest and roughest road we'll meet during the tour. Talking to the other riders, it is rideable on a cyclocross bike and will probably need an even higher level of determination to finish. With any luck, my rear wheel will hold together.

Paul (the tour director) helped me adjust my brakes today - he's incredibly handy and they work beautifully now. I'm usually loath to complain but I find it odd how little time Chris (our bike mechanic) seems to have for actually repairing bikes. He has two pre-arranged sessions a week of an hour long and some time on our rest days. People's bikes are beginning to need a fair amount of work as we get deeper into the tour - especially as we hit the rougher terrain. Sub-optimal.

The mosquitos are biting harder now and I've picked up three new bites in the last day alone. It's also getting warmer - I barely cover myself with my sleeping bag at night now, finding it a bit on the sticky side.
We're in Kenya. A dreary 80 kilometres of questionable quality pavement and a fairly unremarkable border crossing and we're in the motherland, or at least my motherland. Crossing the border, the fact that we're in a country is unmistakeable. Aside from driving (or riding) on the left hand side of the road, the people are friendlier here and more of them speak English. The kids don't hassle you, they merely stare (which is still not ideal but always better than a barrage of rocks).

I've spent about £20 worth of mobile phone credit already just catching up with family and friends. I've managed to organise via my father a new crankset, rim, set of pedals and a helmet - with any luck these will make it to Kenya with Paddy, another rider who is in London for an interview.

Talking to my aunt in Nairobi about what I'd like to do there, I mentioned the hierarchy of desirable snack food. That is, biscuits are at the bottom - easy to buy in every city, these are a staple snack item for every rider. Chocolate bars fall above biscuits - these are considerably harder to find in less well trafficked areas of Africa and are usually expensive (not an option on my post-student budget). At the top of the hierarchy is ice cream. When I used to weigh a metric ton, I used to eat a bowl of ice cream everyday. So far in the trip I've not had a single scoop of ice cream (although some riders found some at the (amazing) Sheraton in Addis) Ice cream is on the agenda for certain.

The rough terrain is worrying me, which is annoying because I usually love riding offroad. The next few days will be concerned mainly with preserving my bicycle in its now delicate state.

I'm not sure what else to say really. I was so stoked (and hence distracted) to be entering Kenya that I cycled into a pedestrian on the almost euphoric ride out of Ethiopia through the border town Moyale. Luckily it didn't break me or my bicycle further than it has already been damanged.

Oh, and the bugs are getting bigger and uglier. Every night I battle against some dastardly insect which has had the misfortune to find its way into my tent. Some of them can fly or jump pretty high, and in a small two person tent, this is a recipe for disaster.

The rain is heavy, it's been raining every night (and often during the day too) and *everything* is wet. Luckily it was dry enough this afternoon to let my sopping wet (but clean) clothes dry. We also have the dinner truck back which means there is one less bag to find space for inside the tent.